| | | |
| --- | --- | --- |
| Notable Letters to Editor, Archive: | | |
| | | |
Okay Boomer, says the CoolAid drinker, Okaay boomer, says the Flockers. - just more Divisions you know. Life is a teacher, you learn today.
---

Witchcraft 101 :Harry Potter & the Anti-Christ

A USA Today news story by parent, Ken McCormick of Birchrunville, PA, discovered "a general nastiness, underneath the mantle of cuteness" in the Harry Potter books. The article further stated, "The kids lie, they steal, they take revenge," the father of 8- and 11-year-old children told the newspaper. "This is a disturbing moral world, and it conflicts with what I am trying to teach my children."

School Library Journal praised the Potter books and listed a quote from a senior librarian. Her article, called "Witchcraft 101," stated, "Witchcraft or Wicca is a small but growing religion." She goes on to say, "the teen who wants to know about spells is not going to be satisfied with [just] an entertaining novel." (Reprinted from an article entitled, "Harry Potter Controversy," written by Pamela Newby, which appeared on the CBN News website.)

'He is with me wherever I go,' said Quirrell quietly, referring to Voldemort. 'I met him when I traveled around the world. A foolish young man I was then, full of ridiculous ideas about good and evil. Lord Voldemort showed me how wrong I was. There is no good and evil, there is only power, and those too weak to seek it … Since then, I have served him faithfully.'
---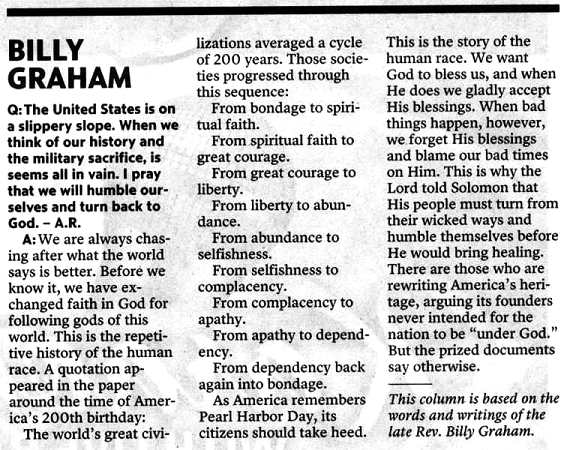 ---
---
List of Political Parties that want to control the Path of America: Click HERE
& Why not have a look, the:

Constitution

&

Amendments
---
Those who are raging to-day against the ideals of reason and individual liberty
and are trying to establish a spiritless State-slavery by brute force rightly see
in us their irreconcilable foes. History has given us a difficult row to hoe; but
so long as we remain devoted servants of truth, justice, and liberty, we shall
continue...

THE WORLD AS I SEE IT
Albert Einstein
---
Flooding worries rise as rain keeps falling
Downstream areas take precautions as a series of storms lines up.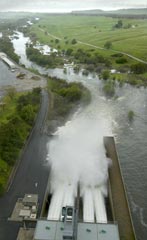 Several pregnant spring storms have given birth to a new concern during this wet season — is there a flood in our near future?
The National Weather Service was concerned about the possibility Monday night in central Fresno County, issuing a flood warning for areas downstream of Friant Dam. The Bureau of Reclamation, which operates the dam, said it expected flows from the dam to exceed 8,000 cubic feet — nearly 60,000 gallons — per second by 8 p.m.
The warning was expected to be in force through 2 a.m. today.
Since Sunday, dam tenders have poured enough water from Millerton Lake into the San Joaquin River to supply most of Clovis for an entire year. The water has refilled the dry parts of the river, which drains into the Pacific Ocean.
"The flow is being controlled," said Steve Chedester, executive director of the San Joaquin River Exchange Contractors Water Authority, representing downstream farmers. "There's just nowhere to put it."
North of Fresno, the rain caused flooding in Atwater and Merced. Merced police reported nonstop flooding calls. Some residents reported water at their back doors. They were told to go to Fire Station Company 51 on 16th Street near G Street to get sandbags.
The problem was less severe around Fresno, although residents of Wildwood Mobile Home Park just north of Fresno on Highway 41 were closely watching rising waters.
At the Fresno Metropolitan Flood Control District, General Manager Bob Van Wyk said area ponding basins are in good shape. Systemwide, he said, the district is ready to deal with as much as 2 1/2 inches of rain.
"We've been pumping all weekend ... to create as much capacity as we can," he said. "Because what's been happening this year is breaking a lot of records, we're treating this event as being different."
On Monday night, some residents of Friant, just below Millerton Lake, opted to leave their homes when told that flooding was possible if the volume of water released from the dam increased, the Fresno County Sheriff's Department said
And more rain is on the way. The storm is expected to clear out late today and Wednesday, but forecasts call for another front to move into the area Friday. Yet another storm is expected to follow Sunday, according to the National Weather Service.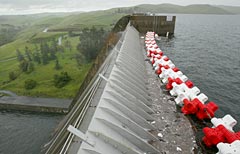 Mark Crosse / The Fresno Bee
A flood warning for foothill areas will continue today, the weather service said. Though no major flooding was reported Monday, officials advised the public to be aware that streams might be running high.
The rainfall also caused a mudslide on the four-lane portion of Highway 168 on the way to Shaver Lake. One eastbound lane will stay closed until Wednesday, the California Highway Patrol said.
"The tropics are feeding warmer air into this storm," said meteorologist Gary Sanger of the National Weather Service in Hanford. "You're getting a lot of rainfall in the foothills."
The weather service said there is an 80% chance of rain today in Fresno and throughout Central California. The temperature is expected to reach the 60s in many San Joaquin Valley cities.
Rain fell sporadically from Sunday evening through Monday afternoon. By 11 p.m. Monday, the storm had dropped about 0.74 of an inch in Fresno.
Fresno's season total has reached 11.72 inches. Now in early April, the city has more rainfall than the 11.23 inches normally expected for an entire season, which runs from July 1 to June 30.
The snowpack in the southern Sierra has built up to 134% of average, while the figure in the northern Sierra has gone beyond 150% of average.
Water is being released from many major California reservoirs to make enough room for big snowmelt runoff later on. Lake Shasta, a massive reservoir in Northern California, is releasing enough water each day to supply 75% of Fresno for a year.
"It's amazing how fast the weather can turn around," said Tony Buelna, U.S. Bureau of Reclamation operations chief at Friant Dam.
The bureau had been releasing about 7,000 cubic feet of water per second from Friant Dam at Millerton Lake. Combined with Friant water releases from Sunday, the water would easily supply a city of almost 90,000 people for a year.
Water also is being released from Pine Flat Reservoir to the Kings River, according to Steve Haugen, water master for the Kings River Water Association. Some water will go through a slough to the San Joaquin, creating an uncommon link between the two large rivers.
"We're expecting the flood releases to continue through May," Haugen said.
Meteorologist Sanger said a series of storms stretches from the Sea of Japan to an area south of the Aleutian Islands. The storms are expected to continue spraying California like a fire hose.
"Some of our most severe weather has come in April," Sanger said. "On April 5, 1980, we documented the strongest tornado in the Valley since the 1950s. It doesn't look like we'll get tornadoes now, but funnel clouds are still possible."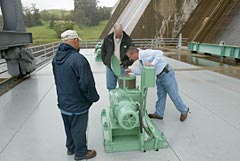 Mark Crosse / The Fresno Bee
---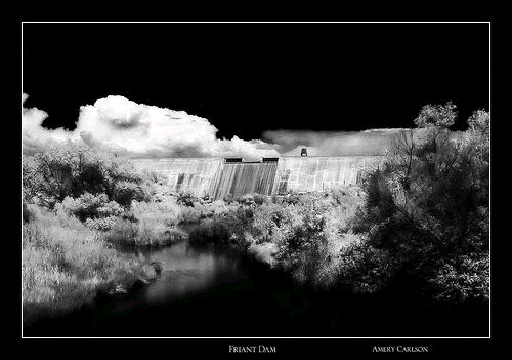 Photographer's Note: Kodak High Speed IR Film with #25 red filter. Old Nikon FMII manual camera + equally old lens. Friant, CA. I did this when I was taking my first photography class at my local community college.

| | |
| --- | --- |
| | |
| | |
Obermeyer Hydro, Inc The second largest component of the Central Valley Project, Friant Dam is located along the San Joaquin River, 20 miles northeast of Fresno. Upon completion, the gravity-type dam served multiple purposes, including flood control, irrigation and diversion to canals. In a joint venture with Bent Construction, Griffith Company was awarded the contract for the construction of Friant Dam in 1940.

The dam was constructed to capture and store water as it headed toward the ocean, then deliver the water to areas that needed it most. Once completed, Friant Dam created Millerton Lake, a reservoir with a capacity of 520,000 acre-feet of water. The retained water was then diverted for irrigation in the San Joaquin Valley via two canals. To furnish the massive amounts of aggregate for the dam and canals, our crews built an automated, electrical rock plant considered very sophisticated for its time. We also constructed a private railroad to convey the aggregate from the plant to the site.

In terms of size and scale, Friant Dam came in a close second behind Shasta Dam. Around the time of construction, Friant was the fourth largest dam in the world. At nearly 3,500 feet, the dam's top length rivals that of Shasta. In the three years it took us to complete the dam, Griffith Company provided employment for 2,500 workers, during a time when work was scarce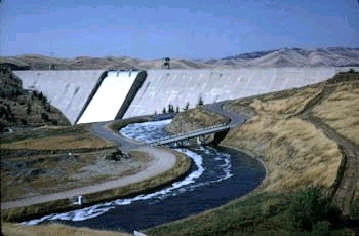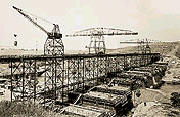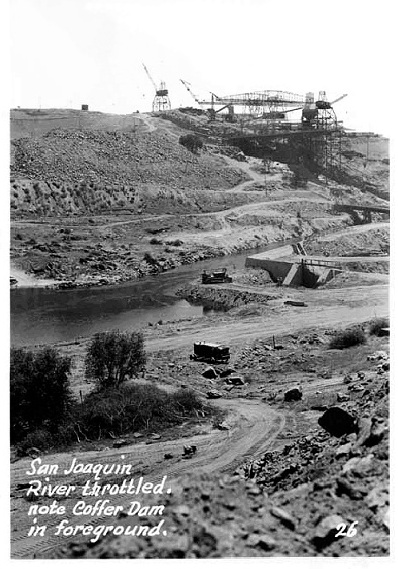 The Beginning:
The first concrete was poured at Friant Dam on July 29, 1940. Four small, diesel-electric cars ran on two tracks each transporting 4-cubic-yard buckets. The cars were lifted from the track by two 30-ton gantry cranes and lowered on to the forms. Steel trestles standing 210 feet high, and 2.200 feet long, supported the track system. Along the trestles ran two huge hammerhead cranes with 300-foot arms and a "whirley" crane with a 125-foot boom. Supplementing the hammerheads and revolving derricks were a pair of stiff-leg derricks with 180-foot booms. This system poured 5,500 cubic yards of concrete each day. The final yard of concrete was placed on June 16, 1942. A total of 2,130,480 cubic yards of concrete went into building Friant Dam, ranking the dam as the fourth largest dam in the world behind Boulder, Grand Coulee, and Shasta Dams.

Friant Dam finished in November 1944. In July 1945 construction began to build the Friant-Kern Canal. The Friant-Kern Canal outlet works are located on the left side of the spillway. Excavation work began in August 1945. On July 9, 1949, 2,500 people watched the first delivery of water to a citrus grower. The system became fully operational on June 29, 1951. Except for the Delta-Mendota Canal, the Friant-Kern is the largest lined canal in the West.

Friant Dam, 1940-42
---
U.S. Department of the Interior (DOI) Purchases WhisprWave® Floating Small Craft Intrusion Barrier™ (SCIB™)
US Bureau of Reclamation - South Central California Area Office Contracts Order for Friant Dam
Summit, New Jersey - January 20, 2004 - Wave Dispersion Technologies (WDT) www.whisprwave.com announced it has received a purchase order from the United States Department for the Interior (DOI), Bureau of Reclamation South Central California Area, for installation of a WhisprWave® Small Craft Intrusion Barrier™ (SCIB™ at Friant Dam in Fresno, California for dam security purposes. The mandate of the Bureau of Reclamation is to manage, develop, and protect water and related resources in an environmentally and economically efficient manner. The WhisprWave® Barrier Technology is designed to address possible breakaway small craft and homeland security issues made more immediate by the post 9/11 era. Delivery is estimated for the end of March 2004.
"The Bureau of Reclamation manages 365 dams, and we are confident this is the first of several contracts and installations using our unique floating barrier," stated C.E.O. Dennis Smith.
The WhisprWave® is specifically designed in a modular format to increase the product's flexibility and strength for maritime applications. WhisprWave®'s distinct design and application allow it to withstand adverse marine conditions such as large storm waves and sustained winds of more than 100 MPH.
Maritime Port Security Buoys and Barriers:
To facilitate the security needs of the US Navy, US Coast Guard, US Army, US Army Corps of Engineers, other government agencies and commercial interests, the company has developed the WhisprWave® Technology line of Maritime Intrusion and Exclusion Barriers and Warning Buoys for Homeland Security and Force Protection. The unique characteristics of the WhisprWave® Homeland Defense Products include mobility, marine grade design and off-the-shelf availability for Homeland Security maritime zone demarcation applications, (a requirement recently mandated by the USCG for all nuclear power plants post 9/11).
About WDT: whisprwave
The Global Leader in Maritime Homeland Port Security Barrier & Buoy Protection Systems
Wave Dispersion Technologies, Inc. (WDT) has developed the patented WhisprWave® floating articulated breakwater technology to afford erosion control protection to shoreline beaches, coastal marinas, anchorages, and other areas subject to destructive erosion wave / wake forces. The WhisprWave® is currently installed, being demonstrated or being reviewed by several agencies including the US Army Corp of Engineers (USACE), US Navy (USN), US Coast Guard (USCG), US Army (USA) and several US States for applications that range from Homeland Security / Force Protection to Beach Erosion Protection to Marina Wave & Wake Protection.
About the United States Department of the Interior:
http://www.doi.gov/
About the Bureau of Reclamation: http://www.usbr.gov/
Established in 1902, the Bureau of Reclamation is best known for the dams, power plants, and canals it constructed in the 17 western states. These water projects led to homesteading and promoted the economic development of the West. Reclamation has constructed more than 600 dams and reservoirs including Hoover Dam on the Colorado River and Grand Coulee on the Columbia River.
California Dams:
http://www.usbr.gov/dataweb/html/cadams.html